Temporary Electrical Systems
By the nature of events, most electrical installations are deemed as temporary (Temporary is simply defined as "not permanent"), for example, a marquee in a garden for wedding reception, or a corporate awards ceremony. Temporary Electrical Systems are of a 'plug and play' nature and so subject to BS7909 Code of Practice, which means, although they are governed by BS7671, they're treated slightly different to fixed installations, so regular electrical contractors are often untrained in this area.
Chilli Productions provide professional, events specific, electrical services.
As experienced industry professionals, we are fully aware of the potential dangers when using electricity, particularly in the fast-paced events environment. Our aim is to minimise the dangers as far as practically possible.
We work to, and are trained in, industry specific electrical recommendations BS7909.
By following detailed processes, we can ensure we meet all required standards to provide you a reliable, safe and fully compliant Temporary Electrical System (TES). This helps you to ensure you're also complying to Electrical Safety Law.
Chilli Productions offers power solutions to corporate, private and public events. We provide a comprehensive service involving the initial design, onsite installation, testing, certification and site power management. We hold stock of cabling, distribution equipment and accessories and work closely with various generator suppliers, ensuring we can provide exactly what you require, whatever the location, even at short notice.
We have excellent knowledge of electrical systems and the events industry as a whole. We combine these subjects to provide you with a complete, bespoke solution for your individual event.
After receiving your power requirements, we can take full responsibility for the system, leaving you to concentrate on the finer details of delivering your event.
We encourage having a production electrician available on site for all live events. This way, in the event of a fault or power failure, there is always a qualified person on hand to get you back up and running in the shortest possible time. Call out services often take several hours to arrive on site, diagnose and fix issues. This leaves the opportunity to have untrained persons to attempt to solve problems, creating high risk environments.

Increasing numbers of event spaces and venues are now insisting on having a "competent" person to design, install and certificate all Temporary Electrical Systems. This ensures they have fulfilled their duty to comply to EaWR. Often, for insurance purposes, they also insist on having a production electrician on site at all live events.
If you would like more information on how we can provide a Temporary Power Solution for you event, please contact us on info@chilli-productions.co.uk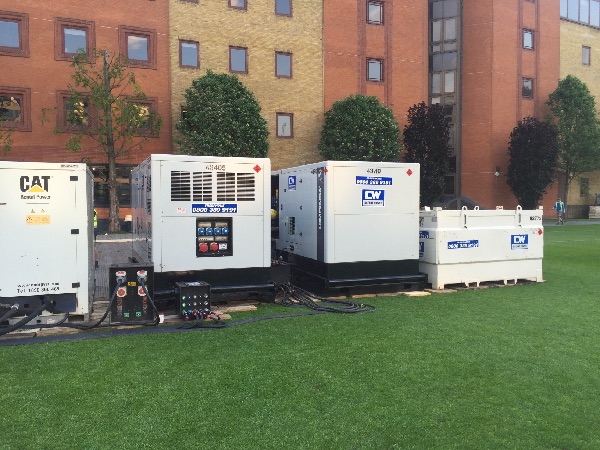 Design
We assess your power requirements for each area of the event at the different key stages.

From the decided requirements, we calculate the required power source, cable & distribution systems.

We create drawings & plans to show the complete systems and their physical locations on site.

From the requirements, location & access, equipment can then be selected to suit the conditions.

Equipment can then be booked and delivered to site.
Installation
A Senior Person Responsible (SPR), such as the production electrician, takes responsibility for the installation of the system. They will manage any other staff & be the electrical contact on site.

Equipment is installed as per the designs and plans. This ensures that cables and distribution equipment is suitable for it intended purpose.
Testing & Certification
Once installation is complete, each separate system is tested using specialist test equipment. Results are recorded, analysed & verified to ensure the system is compliant & meets the design requirements.

Certificates can then be produced. These contain all the specific details of the system, previously recorded test results and any further information required.

A copy of each certificate will then be made available if required, to yourself, the venue, other companies, Health & Safety advisors. The certificates are proof that the system was designed, installed & tested in compliance with BS 7909, which demonstrates compliance with the Electricity at Work Regulation 1989 (EaWR)